Animatronics › Show Control Hardware › Gilderfluke & Co.
Gilderfluke & Co, Robotics and Sound Systems
Show Control Hardware: DMX digital relay, pnumatic control with compliance, DMX lighting, DMX sound, DMX servo, DMX analog, serial data control, GPS-based control, full SMPTE time code show control
Location: Burbank, California USA
Website: www.gilderfluke.com
Gilderfluke is the premiere manufacturer of animatronic hardware. Their smart and dumb brick system for control of analog hardware, digital hardware, and audio provides off the shelf solutions for almost any animatronic show application. Paired with one of the industry's best programming software packages, PC MACS, Gilderfluke easily controls any electronics needed for a show.

Gilderfluke is one of the only companies that offers complete off the shelf solutions for professional animatronic control. Their brick card systems control animatronic figures, stage, lighting, sound, and even special effects like fog, snow, and water fountains. Most of their equipment allows networking with their other cards through a DMX (RS-485) network. Many of Gilderfluke's cards like the BS_BRN-CRD, BR-Brain 4, SD-50 series, BR-Smartmedia, and BR-minibrick8 can output DMX-512 data to command a show or animatronic figures. The programming is done up front, then downloaded to their cards so they can operate independently from a PC. If you wish to turn a PC into a show controller, the MACS-USB box is a full professional solution for programming or playing a large animatronic show.
Servo Control
Gilderfluke offfers a few options for controlling servo motors.
SER-DMX The SER-DMX card is Gilderfluke's top of the line controller for servos. It controls up to 16 model airplane-style servo motors, using programming from PC-MACS and a DMX control signal.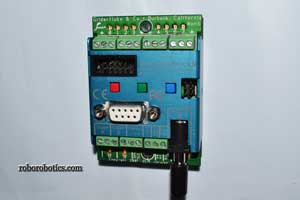 BR-MiniBrick 8 - This little card can control up to 8 digital switches, but also controls 2 servo motors. The BR-Minibrick 8 is set up right on the card or programmed with PC-MACS and downloaded to the card. The BR-MiniBrick8 is also capable of sending and receiving DMX-512 data.
Digital Control
Gilderfluke offers a variety of cards that offer digital control. These are digital on-off switches that can be used to control small switches or relays.
The BR-MiniBrick8 and the BR-MultiBrick32 control 8 and 32 digital outputs, respectively. The SD-50/8 combination audio repeater and show controller has 8 digital outputs and the SD-50/40 audio repeater has 40 digital outputs. The BR-ZBR (Z-Brick) adds 32 digital outputs to a Gilderfluke card cage mouted DMX output card like the BS-ANA or BR-SmartMedia cards. For really small shows, the entry level BR-MiniBrick4 controls 4 digital relay outputs.
Analog Control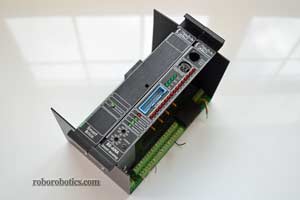 Gilderfluke offers the most off-the-shelf analog control cards for animtronics of any other company. Analog control offers smooth, lifelike control of figures, but the cost is higher than digital control for both the control cards and the analog valves they control. The standard in professional analog control cards is the BR-ANA. This card offers 16, 0 to 10 volt smooth analog outputs.