Alcorn McBride Show Controllers
Alcorn McBride makes great audio, video, and show control products. Their show controllers are designed to control the overall "big picture" show, not specifically for just an animatronic figure. If you plan to go big, then spend the money on a product such as Alcorn McBride. They are very good for controlling a variety of devices such as audio, video, water fountains, and more. Their controllers selling point is the ability to control timing of a show on the button and to replace unreliable PC's.

InterActivator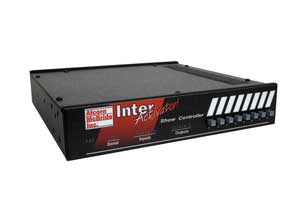 The InterActivator is the 2 serial port controller from Alcorn McBride. It has 8 protected inputs and 8 digital outputs (up to 150mA loads). It is for very small shows or for controlling a few serial devices. It has 32KB of built in memory (EEPROM). This unit has been upgraded to the V2+ show controller which contains better circuitry with more load capacity of its outputs.
V2+ Show Controller

The V2+ is the smallest available full show controller from Alcorn McBride. It offers simultaneous control of 2 serial ports of data. If you have other serial controlled boards or devices. Timing of programmed data can be stored and output by a V2+. This device helps to synchronize a show and replaces a PC to avoid crashes in the middle of a show. It has 24kB of EEPROM memory for show data.
V4+ Show Controller

The V4+ show controller has 4 data port outputs that can control RS-232 or RS-422/485 serial data. Any device that has serial data input can be controlled by an V4+. Programming control and timing is set by Alcorn McBride's WinScript software which is free from their website. The V4+ can lock to timing of video or audio files or SMPTE time code. This is a great controller for overall show control, but you will need additional servo control boards or digital/analog output cards to control enough motors and valves for a detailed animatronic figure with the V4+.
V4 Pro Show Controller
The V4 Pro has an upgraded front panel and is much easier to configure through the Winscript Live software that works with Alcorn McBride's Pro series. Show control data is stored on Compact Flash media cards.
V16+ Show Controller
This unit has a whopping 16 DB-9M serial output ports. All the ports can operate at the same time thanks to the processing power and the use of WinScript Live. It also contains 16 optically isolated inputs and 16 digital outputs with a 0.9 amp load rating. This controller, like most of the V+ series has only 24kB of EEPROM storage for show data.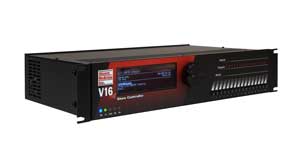 V16 Pro Show Controller
The Cadillac of Alcorn McBride controllers is the V16 Pro. It combines the great features of the V16+ with the power and flexibility of the WinScript Live software. The hardware and front LCD panel are upgraded for functionality. The memory is upgraded to Compact Flash to store nearly unlimited show control data.
IO64 Input/Output Expansion Module

Is it an expansion module or a show controller Well, actually it is either one. The IO64 can be used to add 32 optically isolated inputs and 32 digital outputs to any other Alcorn McBride system or it can programmed with WinScript and run a show.
ShowTouch Interface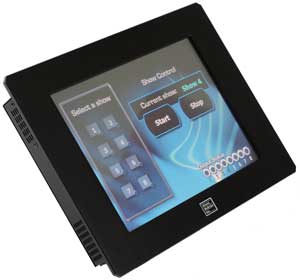 The ShowTouch interface works with other Alcorn McBride equipment to give installations the "Wow!" factor. It can be used as a selling point for future shows. When owners need to interact with the show control system, the ShowTouch allows simple intuitive access.