Animatronics › Show Control Hardware › Parallax Basic Stamp 2
Basic Stamp Microcontroller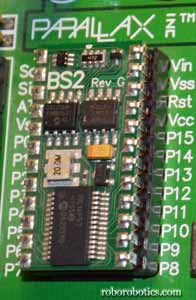 Show Control Hardware (embedded): DMX control, serial data control, DC motor control, stepper motor control, servo motor control
Company: Parallax, Inc.
Location: Rocklin, California USA
Website: www.parallax.com
The Basic Stamp microcontroller, produced by Parallax, Inc., is an embedded computer system that is capable of controlling animatronics. If you have the goal of running a show independent of a full size PC or laptop computer and do not want to break the bank, a Basic Stamp 2 microcontroller is a possible solution. Keep in mind, using a Basic Stamp microcontroller requires some programming.

What can the Basic Stamp 2 Control?
Using simple basic programming commands, the Basic Stamp 2 is capable of controlling digital relay switches, servo motors, LCD's, LED's and more. With added accessory boards, the Basic Stamp 2 is able to control DC motors, stepper motors, and additional servo motors. The Basic Stamp can even store limited amounts of data for other programming on its on-board RAM. The real power of the Basic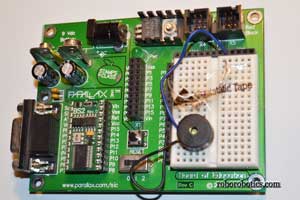 Stamp 2 is input control. From IR sensors, motion sensors, to any type of electronic sensor, the Basic Stamp 2 microcontroller is capable of handling user or environmental data to add more control or interaction to a show. This functionality also adds a wide range of possibilities for making different types of control boards work together by triggering inputs. While the Basic Stamp 2 chip is not the fastest microcontroller available, (Parallax's propeller and Arduino are faster) ease of use and available documentation for the embedded processor are very good.